Stålring Mesh Butcher Glove Introduktion
Händer och fingrar är de mest utsatta delarna av kroppen, 25% av olyckan är relaterad till händer och fingrar. I allmänhet liv, och vissa maskiner eller utrustning drift sådan köttbonning maskin, kläder skärning, glas bearbetning och någonstans behöver kniv eller el såg, vi är mycket beroende av våra händer. Då är det också en import sak att skydda våra händer och fingrar.
Stålring mesh slakthandske var gjorda av högkvalitativa rostfria ståltrådar 316 L. Varje handske tillverkades av mer än 5000 individuellt svetsad nätring och kan erbjuda högsta skyddsnivå jämfört med andra material.
Product Name: steel ring mesh butcher glove
Product Materials: Stainless Steel 316L
Strap Type:Textile, Metal Hook, EVA
Glove Size: XXS, XS, S, M, L, XL, XXL
Wire Diameter: 0.53 mm,Ring Diameter:3.81 mm
Gloves application: used to protect fingers and hands during meat deboning,meat processing etc.
Storlek på Stålring Mesh Butcher Glove
Model
Specification

XXS
XS
S
M
L
XL
Textile Strap-Wrist Length

Color
Navy Blue
Green
White
Red
Blue
Orange
Length(mm)
210
225
235
245
255
260
Width(mm)
105
110
120
125
130
135
Weight(g)
145
165
180
205
210
235
Breda Tillämpningar av stålring mesh slakthandske :
1. Används för slakthus
2. Används för fisk och skaldjur bearbetning
3.Pultiv bearbetning
4. Storskala offentliga kantiner
5.Supermarkets
6.Plastic, läder bearbetning
7.Textile
8.Tailoring och pappersindustrin
9.Wood bearbetning
10. Glasbehandling
11.Laboratorisk inneslutning
12.Säkerhet, polis, allmän säkerhet och andra områden
Förpackning av stålring mesh slakthandske
För handskruvar med näthantering i handskärning, kommer normalt 1 bit handske att följa med 1 stycke tättare.
1,1 stycken handskar per polybag, sedan 10st i större polybag, och sedan 50 stycken per kartong.
2,1 bit handskar per polybag, sedan 1 påse per innerlåda, och sedan 50 innerlådor per kartong.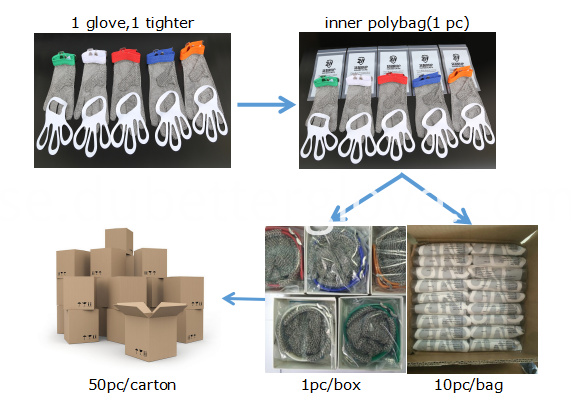 Företagsintroduktion
Sino (Beijing) Technology Co, Ltd är ett högteknologiskt innovativt företag som integrerar produkt forskning och tillverkning, försäljning, internationell handel och kundservice. Våra huvudprodukter inkluderar rostfritt stål mesh anti cut handske, rostfritt stål mesh skärningsbeständigt förkläde, rostfritt stål chainmail scrubber, rostfritt dekoration gardin etc. Våra ring mesh produkter används i stor utsträckning till slakteriet, kött bearbetning fabrik, vattenlevande produkter bearbetning, plagget skärning fabrik, skärverktyg fabrik, glas fabrik, stor restaurang, hotell och kedja stormarknad, utställningshall och andra högkvalitativa platser.
Sino har ett komplett och vetenskapligt kvalitetshanteringssystem, alltid i linje med affärsfilosofin "integritet, innovation, win-win" med sin fantastiska professionella teknik, hög kvalitetshanteringsnivå, för att ge kunderna kvalitetsprodukter och tjänster.
Med kraftfull teknisk kraft, utsökt utförande, seriös arbetsinställning och perfekt kundservice har Sino varit känd världen över. Dess produkter distribuerades inte bara över hela Kina utan exporterades också till de flesta utländska länder.
Produktkategorier : Ring Mesh Glove > Fem Finger Ring Mesh Glove